Dojo kun 11 Motto Osu ! Grunnleggeren Ordiste

Kyoku meaning "Ultimate".

Shin meaning "Truth" or "Reality".

Kai meaning "Society" or "Association".
Kara meaning "Empty", and

Te meaning "Hand".

Tall og telling
1 til 10: ichi, ni, san, shi, go, roku, shichi, hachi, ku, ju
45: yon ju go
90: ku jus

Kanku



The symbol of Kyokushin Karate is the Kanku, which is derived from Kanku Kata, the Sky Gazing Form. In this kata, the hands are raised and the fingers meet to form an opening through which the sky is viewed. The top and bottom points of the Kanku represent the first fingers of each hand touching at the top and the thumbs touching at the bottom, symbolizing the peaks or ultimate points. The thick sections at the sides represent the wrists, symbolizing power. The center circle represents the opening between the hands through which the sky is viewed, symbolizing infinite depth. The whole Kanku is enclosed by a circle, symbolizing continuity and circular action.
Bilder fra Trener 1 del 1 - 19.-21. sept.-07
2007.03.24 - Bilder fra NM i karate i Framohallen
Bilder fra Trener 1 del 1 - feb.-07
Bilder fra Trener 1 del 2 - april-07
Siste bildene fra Vestlandsmesterskapet 2006
Bilder fra sommerfesten 2006 hos Magne
Bilder fra Trener 2 del 2 - mars-06
Bilder fra Trener 2 del 1 - jan.-06
Bilder fra Trener 1 del 3 - dag 2
Bilder fra Trener 1 del 3 - dag 3
Bilder fra Trener 1 del 1 - sept.-05
Bilder fra Gradering juni 2008
Bilder fra fellestrening juni 2008
Filmsnutter Trener 1 del 1 2010-02-14: Hoved - 1 - 2 - 3 - 4 - 5 - 6 - 7 - 8
Tester her en .gif fil. Håper den beveger seg:-)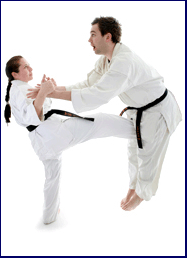 Tradisjonell oppvarmingsvideo / Traditional warm up video (laget til Trener II del I oppgaven / Personal Trainer II Assignment)
Tradisjonell tøying / Traditional stretching video (laget til Trener II del I oppgaven / Personal Trainer II Assignment)